Lawn & Landscape Maintenance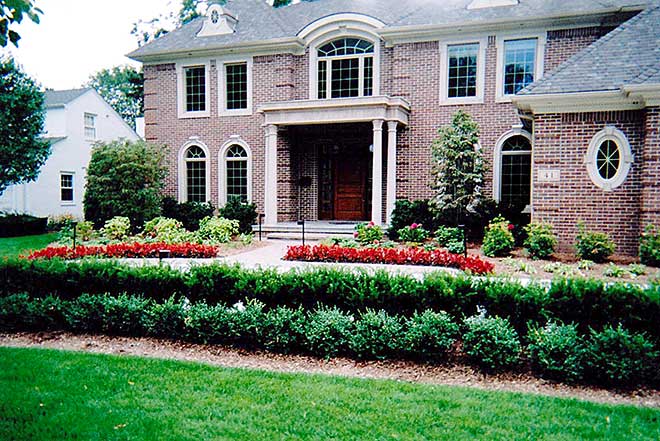 Free yourself from the headaches of landscape maintenance and talk with us about our total lawn-care package which includes everything you need to have a spectacular lawn throughout the season.
Lawn Maintenance
Your time is valuable let us maintain your property. Your landscape will thrive and flourish with Landscape America's award-winning lawn, yard, and property services.
At Landscape America, we know what grasses grow best in this region, and we know how to properly cut and maintain your lawn to keep it healthy and beautiful. We use the industries most advanced lawn care equipment, we frequently adjust the height of our mowing decks to prevent your lawn from burning and becoming susceptible to drought and disease. The blades on our mowers are kept sharp so we cut rather than shred your lawn. Additionally, we vary our mowing patterns weekly to eliminate ruts, lines, and excessive wear and tear.
Free yourself from the headaches of landscape maintenance and talk with us about our total lawn-care package which includes everything you need to have a spectacular lawn throughout the season.
Lawn Fertilization & Weed Control
Your lawn's health if affected by the water, sunlight, air, and nutrients in your soil. Knowing what grasses grow best in the Southeastern Michigan region helps us to manage the correct fertilization levels of your turf. What is the proper mix of nitrogen, phosphorous, and potassium you need to apply to your lawn? Should you change the fertilization levels during the season? Nitrogen stimulates immediate energy to the blade of your grass and helps maintain that green professional look. Phosphorous enhances root growth, facilitates the function of the root to gather water and other soil nutrients and prevents disease. Potassium plays a key role in developing cell walls in your turf and in fighting disease. Let Landscape America determine these landscape needs for you.
During the summer, your lawn will experience stress, disease, and drought. Should you apply nitrogen nitrates, formaldehyde nitrogen, or calcium- based fertilizers? Leave the technical questions to us! Weed control applications are included with our lawn fertilization. Let Landscape America's lawn care fertilization program give your lawn the energy to fight seasonal stress, the protection to prevent disease, and the proper balance of nutrients to curb drought.
We apply a pre-emergence herbicide to prevent crabgrass, clover, nutsedge, dandelions, and hundreds of other invasive weeds from germinating in your lawn during the spring. A post-emergence application in the late spring sends a second wave of herbicides to kill existing weeds. Let Landscape America keep your lawn looking and feeling healthy all season long!
Tree & Shrub Care Program
Protect your beautiful trees and shrubs!
Our program of nutritional care safeguards your valuable trees, shrubs, and special specimens, enhancing color, improving leaf size, encouraging bloom rate, and stimulating overall growth.
The Landscape America team will talk with you about our professional insect and disease control programs tailored to the exact concerns of your area's environment. We target specific threats to your landscape's shrubs and trees, using insect and disease treatments that promote healthy, vigorous growth. To defend your trees and shrubs from invasive pests and harsh weather, we also provide unique dormant oil programs
Irrigation Maintenance
Landscape America's maintenance of your irrigation system ensures that your landscape remains healthy and beautiful. Not only do we activate and winterize your system, we also monitor its performance during the summer months when irrigation is most critical.
Tap in to our horticultural expertise in the care of turf areas, ornamental shrub beds, and garden beds to fine-tune the performance of your irrigation system. Our trucks and experienced staff are always equipped to help with any emergency repair.
Ornamental Pruning
At Landscape America, we have an eye for properly pruning your shrubs and other plantings. To keep them looking and feeling their best, we provide expert, timely pruning of your ornamental trees and perennials.
Garden Design & Seasonal Color
Color your world! We know you love flowers. Our horticulturists are experienced in designing and installing inspiring flower gardens.
Annuals (bloom all summer and need to be planted every year)
Perennials (come back every year, bloom for 2 – 4 weeks of the summer and need to be divided every few years)
Flowering shrubs – roses, hydrangeas, etc.