Landscape Design & Architecture
Get your creative juices flowing! At Landscape America we encourage you to share your thoughts and visions with us. Our award-winning design team prides itself on working closely with you to make certain your mental pictures of your landscapes come to life. Of course, if you choose, we are happy to create a plan for you. In either case, Landscape America will assist you in reaching your goals, always with an eye toward your budget.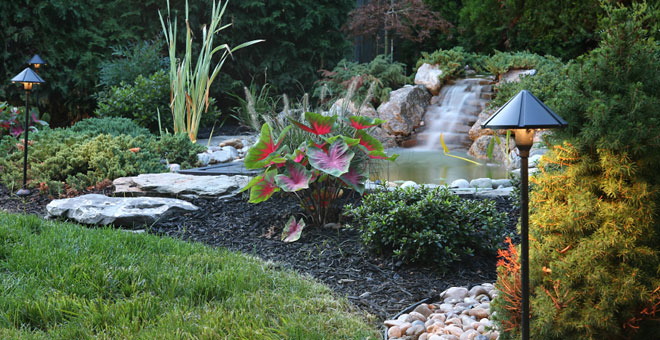 Landscape Lighting Design
Don't let the sun go down on your landscaping. Light up your evenings with a well- designed landscape lighting system that will bring safety and security to your home as well as extended hours to enjoy the beauty of your landscape. Landscape America can offer you a variety of lighting choices from:
Highlighting Trees & Shrubs
Lighting up your Walkway
Illumination of a Border
Highlighting Architecture
Fountains & Water Features
Garden Design & Seasonal Color
Color your world! We know you love flowers. Our horticulturists are experienced in designing and installing inspiring flower gardens.
Annuals (bloom all summer and need to be planted every year)
Perennials (come back every year, bloom for 2 – 4 weeks of the summer and need to be divided every few years)
Flowering shrubs – roses, hydrangeas, etc.
Why plant flowers?
to improve aesthetics/curb appeal and if selling your home
to improve the value of your home
to enjoy the pleasures of seasonal plantings